Insert pictures into your message



AY Mail 2. Any Edition


Basic knowledge of HTML required
Normal email messages are plain text. They cannot contain pictures in the middle of the text. If you want to use pictures, you need to send HTML Messages.
Pictures may be inserted into the HTML message with the IMG tag. For example,
<IMG SRC="http://www.yourcompany.com/picture.gif">
When recipients view this message, the picture will be downloaded from http://www.yourcompany/picture.gif and displayed to the recipient. Thus, the picture must be on your web site at any time the message is viewed, and the recipient must be connected to the Internet at that time.
The other method to insert a picture is to embed it into your message. To do this you need to refer to a local copy of the picture:
<IMG SRC="C:\Documents and Settings\My Pictures\picture.gif">
When AY Mail sees the reference like this one, it will get the picture from the file and automatically embed it into the message. It will also change the reference to the picture in your HTML code with the reference to the embedded picture.
---
It is possible to display different pictures to different recipients. For example, you may prepare two pictures called Male.gif and Female.gif on your web site. If you have a Data Field named Gender which can be either Male or Female , you can use the text macro (see personalize messages for detailed instructions):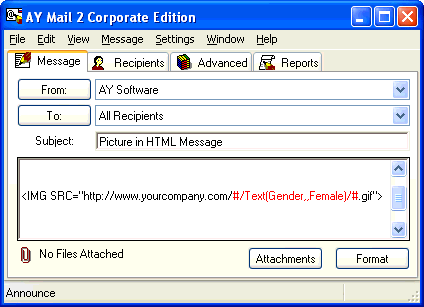 When message is sent, this macro will be replaced with words Male or Female. Your recipients will see either the Male.gif or Female.gif file. If the gender is unknown, Female.gif will be used.
For the pictures located on your computer you can use the same method:
<IMG SRC="C:\Documents and Settings\My Pictures\#/Text(Gender,,Female)/#.gif">
Keep in mind that web links are case sensitive (male and Male are different), while local file names are not (male and MALE is the same).
Also, you can put detectable links into your graphical objects. These references will be triggered every time the message is opened, and AY Track will record the hits. See How to use detectable links to find out if the message was read.