HTML Templates



AY Mail 2. Any Edition


No special skills required
AY Mail provides several built-in HTML templates to use as a base for your messages.
We have tested all our templates to meet the following criteria:
1. The appearance and layout of the template doesn't change when viewed with most popular mail readers, including Web based email systems such as Yahoo or Hotmail.
2. The template doesn't get blocked by most popular anti-spam filters. Many spam filters use HTML formatting features to distinguish spam from regular emails. Our templates don't use such formatting features. However, you still need to be very careful about the contents of your messages because anti-spam filters may block your message because of the language you use or the graphics you insert.
3. Our templates use Cascading Style Sheets (CSS) to manipulate fonts and layouts. This ensures that the font size and important properties of the layout are independent of mail reader settings such as font size. If you want to keep it that way, avoid using custom fonts and changing font sizes.
To use a template, click on the Message tab, then select Message->Template from the main menu. The Select Template dialog will appear where you can select the template you like.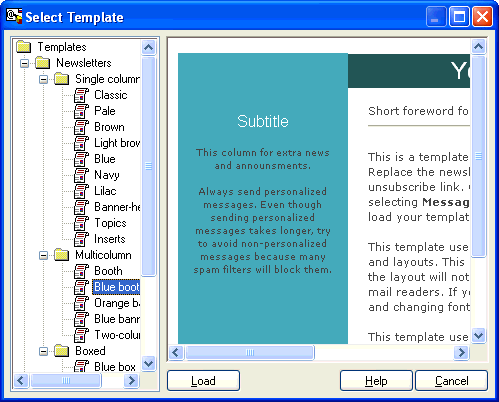 Once you load the template, you can adjust the template for your needs. You can save the adjusted template by selecting Message->Store from the menu. You then will be able to load your template any time by electing Message->Load.