Graphical Objects to trace message openings


AY Mail 2 Professional and Corporate Editions


Some skills required
You can insert graphical object into your message to detect whether or not the recipient opened the message.
To set this up:
1. If you have not done this before, you need to set up AY Track by clicking Settings->AY Track Setup Wizard from AY Mail main menu.
2. Put the file with the picture on your web site. For example, you can create a URL with your logo located at http://www.yourwebsite.com/logo.gif.
3. Before you send your message, you need to make sure that it has HTML format.
4. Insert the picture somewhere in your message. Click on the Picture button on the WYSIWYG tab. The Picture dialog will appear. Select http://, and type in your URL:
www.yourwebsite.com/logo.gif
Select the Use this picture to track message openings checkbox.
Instead of inserting a picture, you can use a background picture or add a sound to your message. Use the Background button to open the Background dialog on WYSIWYG tab.
5. If you use email hook then, after you send your message, you should check your mail from time to time. This will cause AY Track to download all the emails, and process the information on hits generated by the scripts. AY Track will be saving this information for future retrieval.
6. From time to time, you need to open AY Mail project that you have used to send the message, which will cause AY Mail to download read notifications collected by AY Track. You can also download the notifications manually by clicking on the Advanced tab and then selecting Advanced->Check For Bounces/Notifications. As AY Mail downloads notifications from AY Track, you may see green checkmarks with a letter behind them for the recipients who opened the email.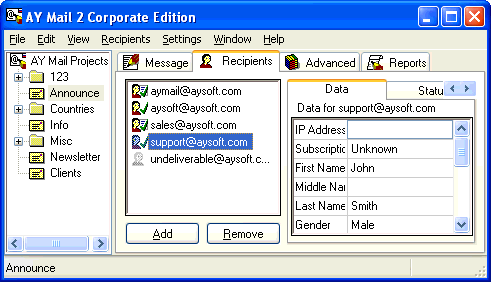 The changes will be recorded in the report as well.
10. Do not delete the report created after you send the message. If you do, notifications will become unavailable. AY Track will still collect them, but AY Mail will not download notifications from AY Track if there is no report for the corresponding message.
See also read notifications.