Read Notifications


AY Mail 2. Professional and Corporate Editions


No special skills required
1. If you have not done this before, you need to set up AY Track by clicking Settings->AY Track Setup Wizard from AY Mail main menu.
2. You need to make sure that the mail addressed to the sender specified on the Message Tab will be delivered to the mail account processed by AY Track. Otherwise, you will not receive any notifications.
3. Before you send your message, click on the Extra Options button on the Advanced tab and then select Request Read Notifications when sending.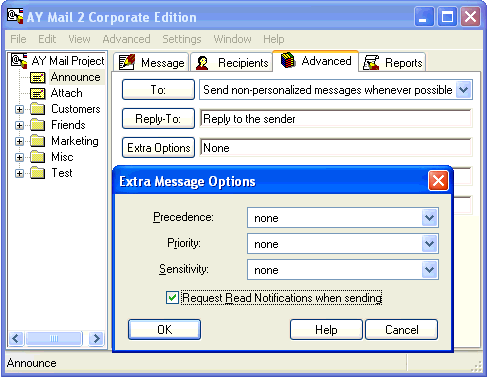 4. After you send your message, you should check your mail from time to time. This will cause AY Track server to download all the emails, and process the notifications if there were some of them sent to you. AY Track will be saving information on notifications.

Corporate Edition only. If you have the AY Track server installed on a computer that is constantly connected to the Internet, you can set it up to accept your mail as a mail server. If you do, AY Track will be receiving notifications without your participation.
5. From time to time you need to open AY Mail project that you have used to send the message, which will cause AY Mail to download read notifications collected by AY Track. You can also download the notifications manually by clicking on the Advanced tab and then selecting Advanced->Check For Bounces/Notifications. As AY Mail downloads notifications from AY Track, you may see green checkmarks with a letter behind them for the recipients who opened the email.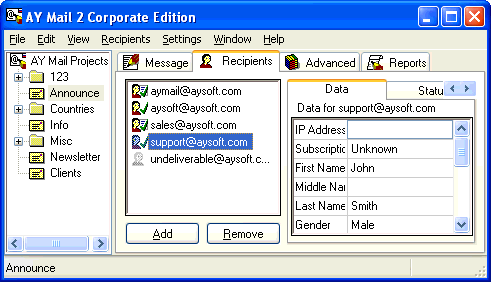 The changes will be recorded in the report as well.
6. Do not delete the report created after you send the message. If you do, notifications will become unavailable. AY Track will still collect them, but AY Mail will not download notifications from AY Track if there is no report for the corresponding message.
See also graphical object with detectable link.